Every successful company has an evolving revenue operations team that is focused on maximizing the efficiency of the sales organization. That revenue operations team might be an informal group of Salesforce Administrators and Sales Operations Analysts or it could be a formalized department (Revenue Operations) that works hand in glove with sales and marketing leaders to reduce friction in the selling motion.
Ultimately, no matter the stage or maturity of your sales organization, the revenue operations teams should be driven by a single mission: to unlock continuous, scalable growth. This single mission is deceptively simple but has a very broad and bold purview. It encompasses an ethos and framework that goes well beyond the Sales department. But, in order to unlock continuous, scalable growth that mission must get intertwined with Marketing, Finance, Product, IT and Executives.
While it might feel obvious that early stage and growing startups need a clear mission for their revenue operations teams, the need for continuous, scalable growth applies at every stage of a company, even mature ones. New products, new markets and new buyer personas are in constant flux in both large and hypergrowth organizations – arguably making it even more difficult for revenue operations teams to succeed. So how do we get there? What is the right mission for success?
Unlocking continuous, scalable growth can be broken down further into four key tenets:
A Constant and Clear Path to Scalable Revenue
Predictable Forecasting
Insights and Analytics that Drive Sales & Marketing
Interdepartmental Alignment (Sales, Marketing, Finance, IT and Executive)
But each of these four tenets require empowerment at the fringe to be successful. The old model of Command and Control will not scale in modern sales organizations.
As the company matures, the operations that manage revenue tend to follow an arc that moves from a decentralized, ad-hoc management (hallmarks of early stage chaos) to a more centrally managed monolith. This journey is common as companies move from early-stage, founder-led chaos to a system of process and repeatability.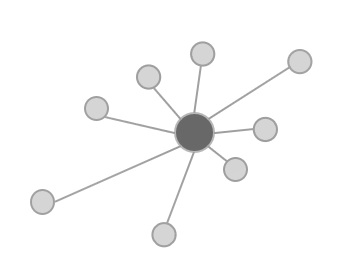 The desire to consolidate revenue operations makes sense and feels intuitive but to unlock long term, scalable revenue growth revenue operations teams should strive to decentralize their operations as much as possible. Centralized, monolithic operations creates a back-office approach to gathering insights and creating dashboards. Front office employees such as executives, sales leaders and even sale reps end up in an asynchronous relationship with the revenue operations team. If a sales leader doesn't trust a specific dashboard or report a request is made to the centralized RevOps department to "look into the details and confirm these numbers." Enormous resources and time are expended doubting, requesting, checking and double checking numbers and data.
Suddenly, the monolithic revenue operations team that was created to eliminate friction has become the biggest roadblock to unlocking scalable revenue.
Rather than creating a central inter-departmental monolith that analyzes data, manages process and consolidates tools – revops should do everything in their power to decentralize and empower revenue teams on the frontlines. In other words, instead of centralizing, revenue operations should work to empower data-driven decisions at the fringe – all the way to the customer.
A modern and mature revenue operations model should look like this: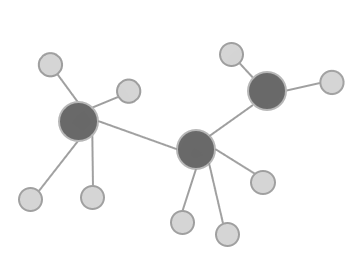 Notice how the decision making power and systems are pushed away from a centralized control center and are empowering nodes at the fringe.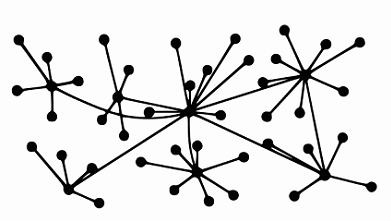 Over time, the central node is blurred and information is ultimately distributed and empowering the frontlines.
Too often, revenue operations teams look at their roles as being a consolidator of information and can easily make the mistake of hoarding information and serializing tasks. Naturally, power dynamics come in to play and revenue operations teams might make the mistake of putting themselves at the center of interpreting the data rather than letting the people at the fringe interpret the data for themselves. Below are a few examples:
By understanding the Buyer's Journey, RevOps teams can deliver targeted information (i.e. pricing, competitive information, security data) directly to the customer. Empowering the customer will inevitably reduce friction in the buying process.
Delivering Deal Insights that are based on buyer and seller engagement to Sales Managers (email response times, sentiment and meeting frequency) will let Managers quickly prioritize Opportunities and focus on the deals that matter most in the forecast.
Providing Coaching Insights about suggested next steps and best practices inside of Salesforce (where a sales reps spends a majority of their day) will empower them to make real-time adjustments to their customer engagement and pipeline. For example, a revenue intelligence platform should tell the rep that they are only engaged with a single buyer but that historically a deal is more likely to close when they are engaged with multiple buyers.
And finally, both Sales Leaders and Executives should be able to access (and trust) the visualizations that are bubbled up through dashboards and reports instead of relying on a sales ops resource to create and update the reports for them.
Maturing your revenue operations team and your revenue intelligence platforms with a mission to decentralize and empower the users at the fringe – will accelerate decision speed and sales productivity. By altering the north star of your revenue operations team from "command and control" to "decentralize and empower" – your entire sales organization will reap the benefits and gain a clear path to unlocking continuous, scalable growth.