Sales is a performance sport. Quotas and performance goals are constant. Simple goals are always better than more complex ones.
However, we don't always live in a simple world. In those situations where you need to assign multiple quotas to your sales organization, SalesDirector.ai can now support you.
Let's take some concrete examples:
What if you make more margin on Services vs. Product Sales? Or vice versa and a single top line number doesn't cut it?
Or you want to incent your Reps to sell more of a New Product Offering vs. an Existing Offering?
Or you have Perpetual and SaaS sales goals?
What you need in these cases is a multi quota setup.
SalesDirector.ai now supports Multiple Quotas for your Sales Organization.
To enable this, you need to enable a new feature called "Offerings", then setup your Offerings. Think of Offerings as a Category of Products. Offerings can be a combination of Opportunity Attributes or Opportunity Product Line Items, and you can mix and match criteria.
For example, your offering might be all Opportunities where the Opportunity Type = Software, and your Services Offering where Opportunity Type = Services. Or it can be more complex where Product Family = Product A and Product Family = Product B.
In this example below, Product and Services quotas are broken out by region. You can also pivot or group this view by Role or Rep to track their progress over time.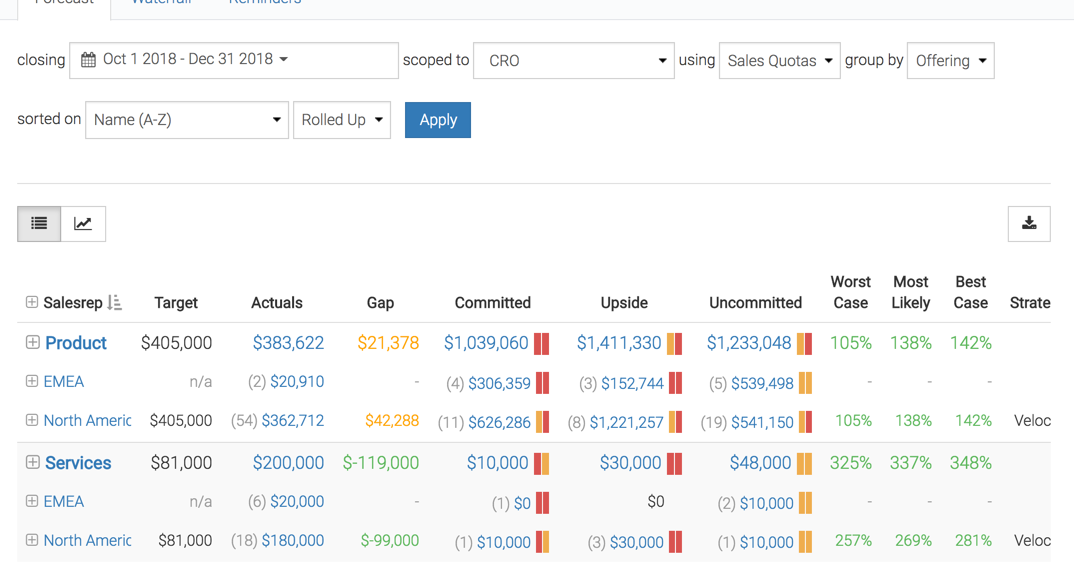 To enable this feature, please contact your Customer Success Manager.
Have other feedback? We would love to hear from you: feedback@salesdirector.ai