Software companies are all about constant learning. Just when you think you've figured it out, the market shifts, customers speak or the platform evolves.
When I look back on 2018 and reflect on our relentless desire to provide our customers with *real* value – some key learnings stood out that I want to share with you.
The Power of Simplicity: The sales tools and sales enablement market is very crowded and it is important for us to clearly differentiate ourselves. As a product focused company, our tendency was to add more bells and whistles to better compete. But we found that more features wasn't the path to more buzz amongst our prospects. Instead, our approach was to laser-focus on solving the fundamental problems our prospects were struggling with – deal updates. So we created a simple solution to solicit deal updates from the sellers to complete the data needed to automate CRM data entry. This fundamentally changed the conversation in the market and the differentiation is very clear.
There is no substitute for talent: Last year I talked about our platform's ability to grow with our customer's selling maturity. This year's learning was that in spite of our tool's simplicity, it's important to provide world class customer success and hold our customer's hand through the change. This has been so successful that 90% of our new customers sign up with services as part of their subscription order.
You know when you get it right: As founders of a growing company, it's hard to know if your team is providing world class service all the way from first contact to ongoing happy customers. Sure, you hear self reported anecdotal stories and comments. But you really know when you get unsolicited 3rd party acknowledgements and awards for things the company stands for. Two years ago the founders got together to lead the innovation curve around sales management. This year Constellation Research short listed us as the top pick among companies like Outreach, LinkedIn and Conversica. All based on adoption and customer feedback. Then, in Q4, G2Crowd, a crowd sourced software rating site, decorated us with a number of awards. So proud of the team.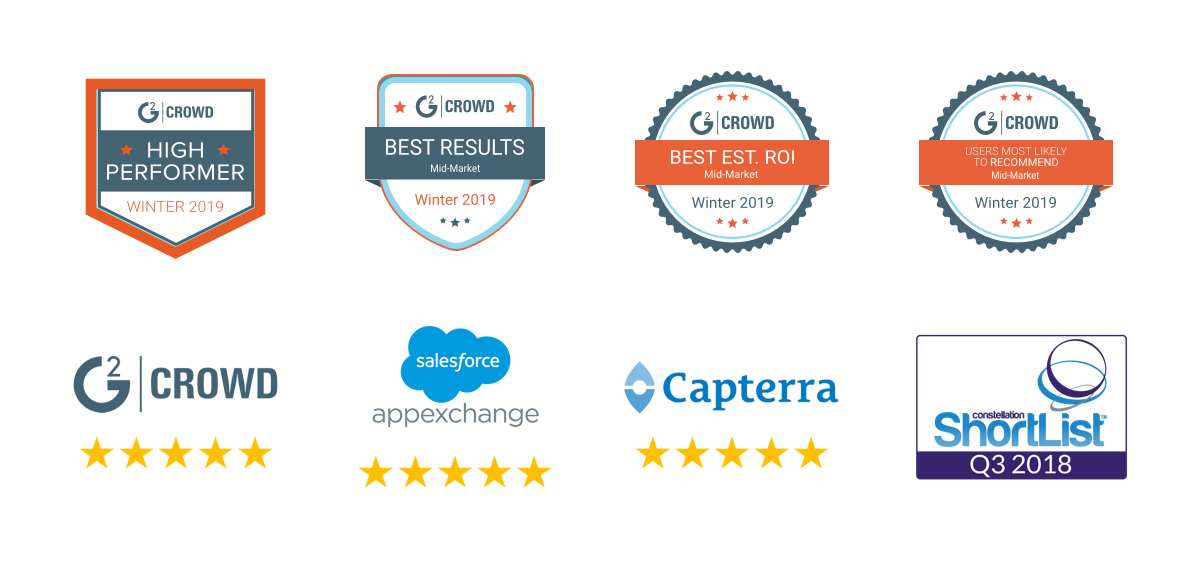 Product Update
Last year our primary focus was to nail product market fit. We certainly experimented in different areas based on customer demand and what our R&D team was excited about. Here are some of the things that we doubled down on.
Brought Leads into the fold. In our opportunity relationship plan you can now see all the Salesforce Leads from the same account. AEs can now tell if SDRs and BDRs are calling into their account including getting access to the actual communications. Additionally, we log activities against the lead object in Salesforce to ensure our customer's own analytics fire up with data.
A product for customers just looking for data in CRM. Some of our larger customers already have sophisticated forecasting, opportunity review and sales analytics systems in place. Their struggle is that those systems are starving for data. So, we built SalesDirector.ai Autoscribe which is a powerful backend service that logs data(Contacts, Contact Roles, Activity) in CRM leveraging our very powerful SmartLogic.
Bridging the opportunity insight gap. Our platform identifies opportunity risk and insights by analyzing activity data that's in CRM but more importantly we analyzed the communications between the seller and buyers. What we were missing out on was the tacit knowledge that only the sellers had. We have solved that problem with the introduction of a conversational assistant that solicits input from the sellers at the appropriate sales stage as they go about their day. Check out this quick video.
Bringing Marketing into the fold. As we observed the common disconnect between sales and marketing teams, we were inspired to help marketers get better visibility into how their efforts are helping sales acquire new leads and accelerate existing opportunities. For customers using Salesforce Campaigns, we unlock a whole set of insights around how marketing is having a meaningful impact on sales.
In the spirit of rising tide helps all, we just released our free 2019 planning toolkit. If you are in the middle of planning, make sure to check out the simple yet powerful toolkit that helps you set goals for the team that dramatically improve your chances of beating quota.
I'll conclude with a glimpse of what you can expect from SalesDirector.ai in 2019. Our customers can look for new integrations with other sales enablement systems, new features that facilitate broader use cases via our AI based sales execution and a continued commitment to helping sales leaders make data-driven decisions around sales management. If you are ready to start now, reach out to us and we can help you accelerate the process.
Thank you for being an amazing community and joining us on this journey. Here's to a great 2019.