Most B2B solution selling is done in teams. Sometimes it's just the AE (Account Executive), but many times its the AE and the SE (Sales Engineer), or perhaps the organization has teams or pods they sell in.
We already support features such as Account Teams or Opportunity Teams sync from Salesforce.
But now we are also making recommendations as to which other members of the organization perhaps should be added to the pursuit team based on recent communications they are having with your Prospect/Opportunity.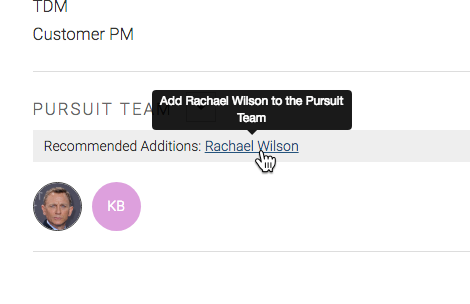 In this example, we are recommending Rachael Wilson be added to the Opportunity. It means we have observed Rachael working with this Opportunity and it may be helpful to add her. Doing so will also add all her communication to the Activity Log.
You will find these recommendations at the bottom of the Opportunity Detail screen. Simply click on her name and she will be added to the Pursuit Team.
Have other suggestions or ideas? Let us know at feedback [at] salesdirector.ai.