Use Outlook or Office365?
Install the Outlook AddOn to send email templates directly to your customers.
Setup Email Templates by going to Setup > Email Templates and load up your favorite Email Templates. (Note: You must be an Administrator to setup Email Templates)
Then install the Outlook AddOn, create a new email, enter the TO email address, then click on the SD button and select a Template. Modify the template to add any custom/deal specific details and send it.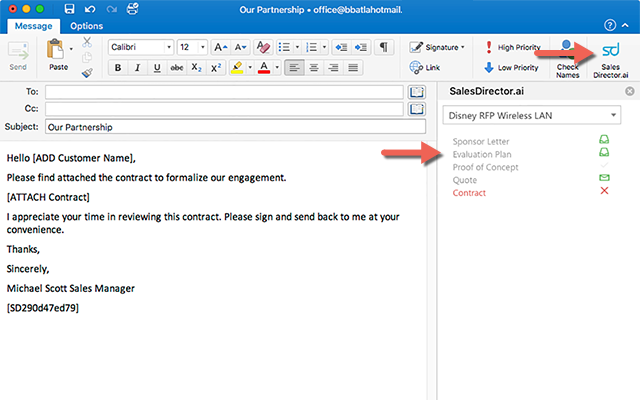 This will do a few things:
1) Associates this email with an Opportunity Specific Milestone or Customer Verifiable Outcome
2) Completes the "Step" or Milestone in the Sales Process
3) Any replies to this email will automatically be tagged and associated with this Milestone
This AddOn works on Web or Desktop and version support includes:
– Outlook 2013 Service Pack 1 or later (Windows Desktop)
– Outlook 2016 for Mac (Mac Desktop)
– Outlook 2016 or later (Windows Desktop)
– Outlook on the Web
Watch the Installation Video for Details:
Have any feedback? Please let us know at feedback@salesdirector.ai.