Starting this week we will be sending out Weekly Email Digests to Salesreps and Managers.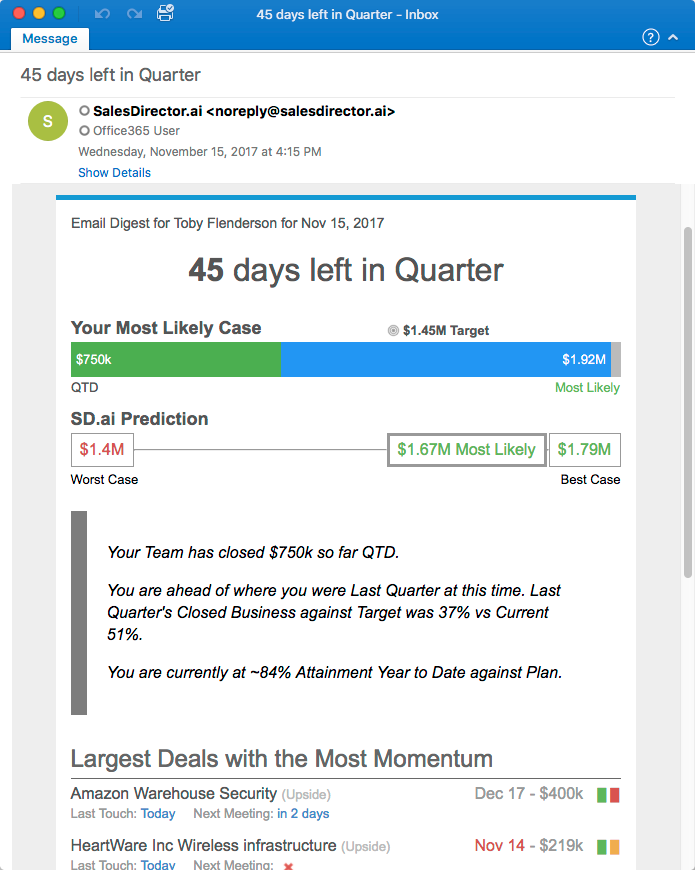 For Reps:
They will make predictions to where they are expected to land against Quota
Remind them about Opps that have been perhaps neglected, to make sure they have the right cadence with their Opportunities
Remind them about Opps where the Close Date has passed or where there is not sufficient time to close the Deal (with One Click Updates to fix the Close Date)
For Managers:
The predicted outcome for the Period (month or quarter)
The different scenarios of Worst Case / Most Likely / Best Case
Overview of how each Team (if you are using Roles) or Team Member is performing
Deals with the Most Momentum
Deals with the Least Momentum
Also the latest communications on their Favorite (Starred) Deals
As an administrator you can set the default frequency of these Digests, after that users can adjust the frequency as they please.
To adjust the global frequency go to Setup -> General -> Default Email Notifications for Users
To get the most out of these Digests:
Set your Default "Period" to Month or Quarter based on how you run your business. For most this will be by Quarter, but some run Monthly.
Make sure you have your Full Year Quotas Uploaded into the system as we do Year To Date stats as well.
We hope they provide added insight into the business without having to do anything and look forward to hearing your feedback and ways we can improve.