SalesDirector.ai crunches a tremendous amount of data on a constant and nightly basis.  Aggregating and crunching communication, calendar and CRM data is only a portion of what we are analyzing.  By automatically capturing data and connecting to 3rd party data sources, financial data, internal customer data sources and marketing data – SalesDirector.ai can bubble up insights that inform your entire revenue stack including sales, marketing, customer success and account management. 
Last week we released an important addition to the data that we analyze and the insights that we provide. We are releasing a new data set that we are calling "Themes" to help drive enhanced Opportunity, Account and Rep Insights.
Themes are deeper, more intensive insights that go beyond the Deal Insights you are accustomed to in SalesDirector.ai (or inside of Salesforce). Themes analyze the words and intent being used by both the sales rep and the customer (via communication data) and group those words into families.
Examples of these Themes and "families" would be the grouping of words and intent that revolve around Pricing, Discovery, Next Actions, Risk, Objections or Deal Progression. Below are some examples: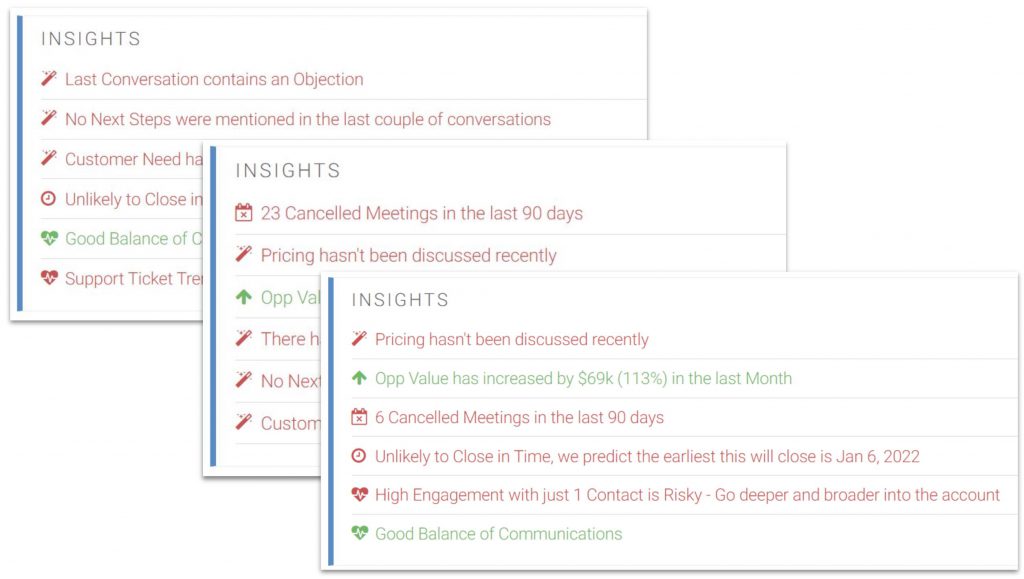 As part of this release, we pre-configured Themes that are available "out of the box" but can be easily customized and configured to fit your specific needs.
Themes are displayed in SalesDirector.ai or in your CRM. More granular views of Themes are available in the Activity Log inside of SalesDirector.ai and inside of Salesforce if you are using the SalesDirector.ai App.

Examining and scanning the communication data through the lens of Themes allows sales leaders to get an overview of what is being said (or not said) in the conversations. Sales reps can leverage Themes to self-evaluate their customer communications and make sure that the right conversations are being had at the right time with the right people.
Also, as part of this release, Competitors and Mentions have been refactored to work with this new framework. We've automatically migrated the original Competitors and Mentions to the new format and new admin location (themes), see the screenshot below: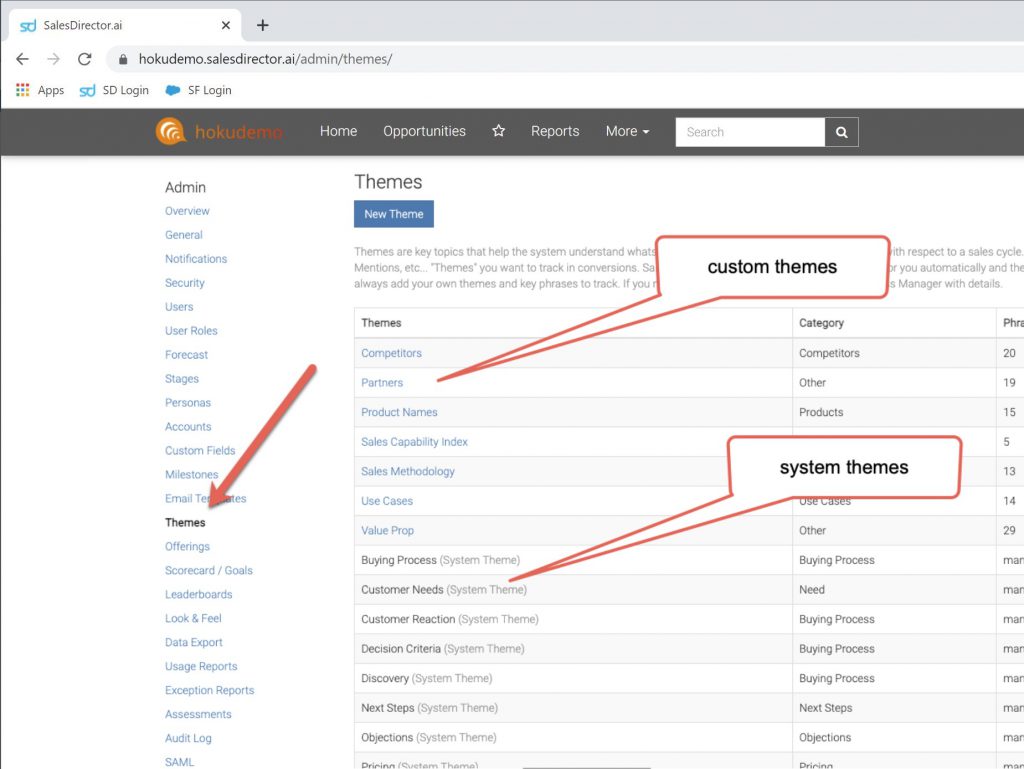 We are very excited about additional ways to leverage the data generated through the Themes Framework. Since our platform is able to analyze a variety of data types, the possibilities are endless. In the near future, look for more features that will enable "Theme Alerts" that could be subscribed to via Email, SMS, Slack or Teams. This will enable Sales Leaders and Reps to get near real-time insights delivered after a call or meeting is completed. We will also be adding the ability for Sales Leaders to configure and customize Themes based on their specific, custom needs. Stay tuned for more information on this exciting feature.